Bathroom Renovations
If you're looking for quality bathroom renovations at a fraction of the cost, you've come to the right place. Our bathroom renovation is a complete service, all trades involved. Licensed carpenters, waterproofers, tilers.
Fully licensed unlimited builders.
We've professionally renovated hundreds of bathrooms, ensuites, toilets, powder rooms  in our journey, always on time and most of all on budget.
The inconvenience and mess of a bathroom renovation is one of the downturns therefore we are committed to a maximum of 10 days from start to finish.
We'll handle all the aspects of the renovation following your choice of materials, fixtures and appliances. Our representative will offer you few options for selecting the right materials, design, colour finishes, fixtures and prices.
Bathroom Renovations Process
Bathroom demolition
Remove appliances, fittings, shower screens, wall tiles, floor tiles, substrate sheeting
Bathroom design
Sketches, plans, discussions, modifications agreed before commencement.
Carpentry and alterations
Drop shower base substrate, change outlets position, electrical rewiring, build stud walls, soap holder (wall niche)
Bathroom walls and floor
Lay wall substrate (plaster, A/C sheeting etc.) Lay subflooring (timber flooring, particle board, compress sheeting, A/C sheeting)
Screeding and levelling
Screed shower base to form floor, screed floor to level or flatten, apply self levelling compound)
Bathroom waterproofing
Waterproof walls using class 4 wp systems, waterproof floor using cementitious compatible systems
Wall Tiling, Floor Tiling
Cut floor tiles to suit shower base fall, tiling of walls and floors as specified
Tiles grouting, Caulking, Sealing
Grout walls and floors using matching colour grout, seal corner joints, apply penetrative sealer over tiles and grout
Shower Screen, Fittings, Appliances
Install shower screen, plumbing and electrical fittings, cabinets, baths, mirrors
All these and more for a median price of $10,000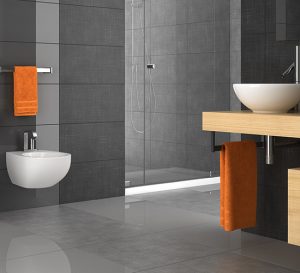 Please visit our warehouse @ 19/1 Commercial Rd, Highett.
All listed prices dropped by at least 20% for any bathroom renovation or supply and install job.
Installation Materials
All installation materials (timber, plaster board, A/C sheeting etc.)
Shower screens and mirrors supply and install at a fraction of the market price.
Our aim:
Within 10 working days
Fixed price
No mess
Flexibility
Customer satisfaction
Accepted payments*