Frameless Shower Screens
Add a luxury touch to your bathroom with our custom made frameless shower screens at a fraction of the cost.
Made with the highest quality Australian standard glass, hardware and fixtures, our frameless shower screens would suit any bathroom application, shower recess or shower over baths.
Our bathroom renovation service includes supplying, delivering and installing of a frameless shower screen at your request. Measurement will occur on tiling completion and installation will take place 5-7 working days after. Mirrors are also available from $65.
Our technicians will assist you with your choice and provide the best solution possible to suit your project and your budget.
Prices vary anywhere between $200 to $2800, depending on glass, fixtures, design etc.
Different fixtures or designs are available and will be presented by our representative on quote request. Contact us for a free quote.
Melbourne Tiling Services P/L is an established tiling business since 2003. Tiling Melbourne caters for both domestic and commercial clients.
We pride our business on our ability to provide quality products, services and workmanship to all customers. No matter how big or small a job or order may be.
Melbourne Tiling Services P/L
A subsidiary of Melbourne Tiles , giving us the possibility to supply tiling materials and tiles at wholesale prices making our jobs cost effective and within the schedule.
All our workers are qualified and certified waterproofers or tilers. Experienced carpenters, plumbers and electricians as subcontractors are available pronto within the job's schedule..
The company specializes in Ceramic, Marble, Granite, Terracotta, Porcelain, Kerlite (large format tiles), Slate and has completed thousands of projects throughout Victoria and Australia.
Our latest projects include
Monash University Melbourne CBD (disable ramp, staff toilets and showers, coffee shop ground level)
Salsa's restaurant in Melbourne Airport T4 (Kitchen walls and floors tiling). Tiling Melbourne Airport.
Penthouse apartments Beach Rd, Port Melbourne (8 marble bathrooms and shower screens). Tiling Port Melbourne.
Tune Hotel (225 bathrooms tiled and sealed). Tiling Melbourne Carlton.
Snap Fitness, numerous locations (staff and members bathrooms and showers). Tiling Melbourne CBD
Campbell's Cash and Carry Preston (staff and clients bathrooms, laundries and other locations).
Kerlite (large format tiles) bathrooms tiled all around Melbourne
We also specialize in large format tiles, Kerlite,  between 900x900 mm to 1500x3000 mm. Can be used in applications like bathrooms walls, bathroom floors, large areas like lobbies, facades, large internal walls etc. Being a full bodied porcelain composite tile, it makes it a hard wearing product with no surface changes in any weather conditions, extremely resistant to abrasion. Special tools and techniques are necessary installing this product. We can assist our client with supplying Kerlite products, delivery, installation and maintenance.
Marble and stone continues to remain very popular within the high end applications, most of our exquisite jobs being done with marble, travertine or stone. We can assist with supplying, delivering, installing and maintenance of marble and stone products.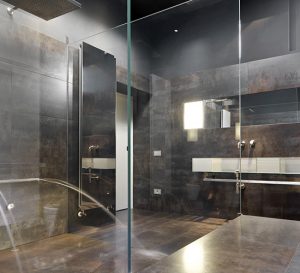 Shower Screens
Measurements
We take the shower screen measurements on tiling completion.
Delivery
We offer delivery service included in price. Special sizes or orders to be discussed prior.
Installation
Maximum time of installation completion is approximately 2 days.
Warranty
Minimum of 5 years glass and hardware warranty.
Quality
Custom shower screens, frameless shower screens, high quality Australian made, certified.
Accepted payments*